AIDS Coalition reaches out to young people
World AIDS Day vigil a reminder of a continuing battle
December 3, 2012, 4:25 PM ADT
Last updated December 5, 2012, 10:21 AM ADT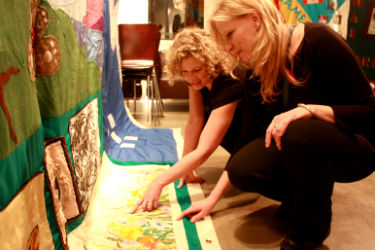 People of all ages joined the AIDS Coalition of Nova Scotia at Fred on Saturday evening to help raise awareness of HIV-AIDS and remember people from the community who were victims of the illness.
Dec. 1 was World AIDS Day and events and vigils were held worldwide. The event in Halifax was to remember those lost over the last year, but also to celebrate progress.
About 50 people attended the event. Each person was given a candle to light during the ceremony. At the entrance attendees were invited to write down a hope, memory or dream on a card to place in a basket.
The AIDS Coalition of Nova Scotia will launch a province-wide campaign targeting youth on HIV-AIDS prevention this summer.
In 2011, Saskatchewan had the highest rate of positive HIV test reports among adults, with 19.6 per 100,000 people, according to the Public Health Agency. Nova Scotia had a rate of 1.6.
The rate of infection among gay men aged 15 to 29 are increasing at an alarming rate, according to Health Canada.
In Canada, 56 per cent of HIV-AIDS cases are among gay men. This group also accounts for 45 per cent of all new cases in the country, says the Canadian AIDS Society.
Almost 16 per cent of AIDS cases reported in Canada up until the end of 2009 were among youth aged 15 to 29, reports the Public Health Agency.
The epidemic is also on the rise among the aboriginal population. Although aboriginals only make up three per cent of the population of Canada, they account for five to eight per cent of HIV cases.
This year marks Canada's first Aboriginal AIDS Awareness Week, from Dec. 1-5.
Heather Green, a musician and volunteer at the World AIDS Day event, says the event and the cause are important to her for a number of reasons.
"As a young gay person I have to make sure that I pay attention to what happens with this, because it's something that affects my best friends, and my family, and my brothers and I think as young people it is important to pay attention."
Young people need to be wary of the disease, says Green.
"If you look at the number of names [of people who passed away in the community from AIDS in] 2011, there were more names in 2011 than the three previous years."
The executive director at the AIDS Coalition of N.S., Maria MacIntosh, says younger people should learn more about the illness.
"I think there's some complacency around whether it's a problem," she says.
"We don't learn about things until we feel that they affect us, so we're urging young people to learn more about HIV-AIDS so that they don't learn about how it affects them when they're getting a test done," says MacIntosh.
An event, such as World AIDS Day, is important for bringing people together and creating community awareness, says MacIntosh.
Green says universities should have World AIDS Day events, because it is a disease that affects young people and because those people are at an age when they want to become involved with a cause.
"When people stop dying of AIDS they can stop having AIDS awareness days, but you know it's still happening," says Green.
"You can't just sweep it under the rug, that's where you get in trouble."
People attending the event were asked to bring non-perishable food items for the Manna for Health special needs food bank who provide services for people living with life threatening illnesses.
The coalition offices offer a range of confidential services. There is a resource library, free condoms and information supplied over the phone or in person.