Consent should be verbal, say male students
Dalhousie students debate consent by body language, but opt for verbal
November 15, 2012, 12:09 PM ADT
Last updated November 15, 2012, 1:37 PM ADT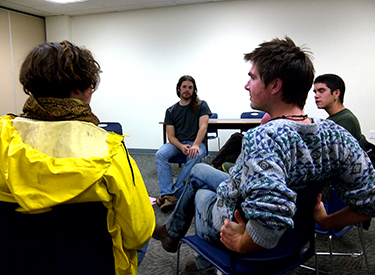 A small group of students talked consensual sex Wednesday night, and decided it's better to risk awkwardness than do something your partner doesn't want.
The event was limited to men and took place in Dal's student union building.
Brian Crouse, a long-time women's studies advocate, led the hour-long discussion that covered topics such as: asking for permission for a first kiss, what to do when a woman invades your space, and establishing guidelines between straight and gay people.
"Learning to define yourself as a man and learning about oppression is a lifelong process," says Crouse, a pensive leader with gentle mannerisms. "People who come to these meetings are often in different stages of this process. The important part is to create a safe space for dialogue."
Sam Krawec, one of the attendees and a friend of Crouse's, says the meeting was a follow-up to a pro-feminist potluck he helped run last year.
"It's important to talk about men's roles in things like feminism," he says. "That way we can create a safe space for everyone and promote gender equality."
Another attendee, Quincy Russell, agrees. He says he attended the meeting because he wants to think critically about a whole breadth of issues – not just limited to consent.
ConsentFEST
The meeting, part of the Let's Talk series put on by Dal's women's centre (now called South House), runs in conjunction with a month-long awareness project orchestrated by Dal and Saint Mary's University, and will culminate at ConsentFEST. The two-day conference lands on Nov. 23 and 24, and includes a series of panels and workshops all dealing with consensual sex.
The festival is in its second year.
Christina Aubrecht, who's on the planning committee, says the respective women's centres at Dal and SMU came up with the idea for a festival dedicated to issues of consent at the same time – though this year the timing's better.
"Last year we had like 50 to 100 people attend writer Jaclyn Friedman's talk, but it wasn't perfect because everyone was leaving for the holidays," says Aubrecht, an outreach coordinator at South House.
Aubrecht says the panels touch on broad subjects as well as more specific issues, such as concern for people with disabilities who cannot verbally consent to things.
"We approach consent using many different platforms," she says. "We use comedy, art and spoken word. We want to raise awareness so that governments might provide more funding for these kind of issues."
This funding, if granted, couldn't come at a better time.
Statistics and more events
The 2012 annual report for the Avalon Sexual Assault Centre reports an increase in the number of women experiencing sexual assault in HRM, as well as an increase in the number of women seeking counseling at the centre.
What's more, The Law Foundation, which contributes 16 per cent of the centre's funding, cut its contributions by $43,000 this year, a 57 per cent drop according to Avalon's figures.
The annual report states the centre "cannot sustain any further cuts from the Foundation."
Avalon, however, continues to support ConsentFEST as one of its sponsors.
South House at Dal will host another consent meeting Thursday evening called Let's Talk: Consent (for Everyone!). It will be held in room 224 of the SUB at 7 p.m. and is open to both men and women.