Fitness on Campus
King's students oppose athletics fee hike
Vote on funding the new Dal athletics facility opens today
November 27, 2012, 6:05 PM ADT
Last updated November 28, 2012, 11:10 AM ADT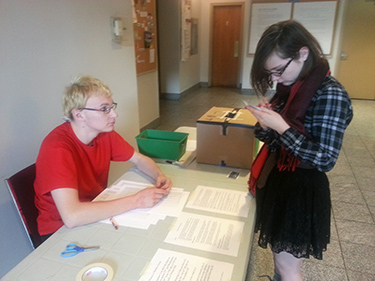 Student response at a town hall meeting on funding a new Dal fitness facility was heavily skewed towards the anti-fee side.
Of the roughly 25 people there, two students voiced their support of the $180 fee hike.
Dalhousie University decided last April to build a $30- to $50-million fitness centre and has given King's the opportunity to contribute, at a cost of $180 per student per year.
The cost will be on top of the $260 King's students pay now.
Ultimately the decision is up to the university's board of governors, but students can vote and the result will be taken into consideration.
Pros and Cons
Members of the administration at the meeting were on board with the project and gave a number of reasons to support it.
King's registrar Elizabeth Yeo is concerned that opting out of the arrangement could have a negative effect on recruitment. She said potential students are attracted to King's because it offers the "best of both worlds," a small-school atmosphere with big-school amenities.
Yeo is worried that King's will lose government funding if students transfer to Dal since the university relies on headcounts for government grants.
Amelia Wilding, a student who opposes the fee, questioned the argument that the new facility would help recruitment.
"Why do people come to King's? It's because of our academics, because of our student life," she said.
Wilding and others at the meeting suggested the money could be better spent on in-house facilities.
One thing everyone agreed on is that the King's gym is lacking.
"I love the King's gym, I spend hours and hours there, but the gym is just so dirty," said Ken Wallingford, a student who supports the fee. "We don't have the money to fix it up right now."
Money isn't the only issue
"The King's gym was built when the school was a quarter of the size," said President George Cooper, who spoke at the meeting. "We don't have the footprint to make new facilities. If we had the land and the opportunity we might go that way."
Cooper told the room full of students that Dal approached the school in early October with the plan and requested a response by Nov. 29.
"Why are we deciding on Thursday when we don't know where it's going to be, we don't know what happens if we opt out?" asked Anna Dubinski, student representative to the university's board of governors.
Yeo said Dal administrators need to know how much money is available before designing the facility.
The student health argument
"It's something that may not apply to everyone," said Wallingford. "But [the fee] can apply to people to motivate them to be more healthy, to be more consciously aware of their mental wellness."
Yeo also pushed the mental-health angle, calling exercise a healthy, positive stress release, as opposed to alcohol. She said students might choose to do something fun at the facility instead of drinking in their residence rooms.
King's relationship with Dal
President Cooper is apprehensive about jeopardizing the relationship between Dal and King's.
"We are partners with Dal in so many different ways. I wouldn't like to push that envelope too far," he said.
On a more positive note, he described the situation as an opportunity for King's that wouldn't be possible without a partnership.
"This is an inexpensive way to participate in a 'knock your eyes out' facility," he said.
What's fair?
"It's a shame when you have a student who doesn't use the facility at all but they're paying $500 and I know lots of students like that," said Anders Jorgen, a King's student who opposes the fee increase. "I don't think it's fair to make them pay that much."
Jorgen said he thinks this decision should be based on what's best for university students in general, not the school.
"I think that what's best for students is giving them as many choices as possible."
King's students can cast their ballots outside Prince Hall tomorrow from 9 a.m. to 5 p.m.