MSVU students confront rising number of mental-health incidents
Rising number of students pill-popping, cutting
November 26, 2012, 11:58 AM AST
Last updated November 27, 2012, 3:11 PM AST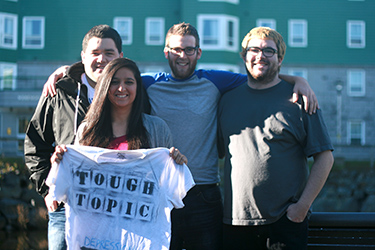 In the last six weeks between three and six Mount Saint Vincent University students have taken excessive quantities of over-the-counter pain medication to cope with stress and anxiety.
"That's too much, that's way too much," says Lynn Cashen Basso, housing co-ordinator at MSVU.
Cashen Basso has worked at MSVU as a housing coordinator for eight years and has worked at the university for 12 years. She says she is seeing an increase in, "not only the cutting," but an "increase of readily available over-the counter stuff."
Cashen Basso says she's seeing an increase in large quantities of Tylenol and Advil usage by students who do not consider themselves suicidal, but rather see themselves in need of some help to cope.
They're "taking the pills to numb the pain and make everything go away," says Cashen Basso, adding that students don't understand there are larger consequences to those actions.
Mental health issues such as anxiety, self-harm and pill over-dosing have been increasing dramatically over the past 10 years.
Students at MSVU have created a campaign to break the stigma around a wide variety of mental-health issues.
The Erase the Stigma campaign was created on a sunny Sunday afternoon, less than a month ago, when a group of student dons and residence advisers (RAs) came up with the idea of making a video. The project aims to let students know it's OK to talk about depression — that it's good to talk about self-harm, obsessive compulsive disorder, suicide and other tough issues affecting many students on campus.
The Erase the Stigma video launched last Wednesday on YouTube.
T-shirts and buttons were another aspect of the campaign. Participants each chose a tough topic they were passionate about and wore it on their T-shirt.
Alissa Ali, a student don on campus, chose depression.
Ali says campaigners wore the shirts around campus and it "created a lot of good energy around various topics." One student who had suffered from depression told Ali that it was "comforting to know that people were taking action and spreading the word about mental health."
Cashen Basso says she tries to educate students about the severe side-effects an overdose can have on their internal organs.
"The scary part for me is what happens when someone takes too much to cope."
Todd MacDonald, a don at the university, has dealt first-hand with students in crisis. MacDonald says, "it can happen to a lot of students who you wouldn't expect." That's part of the stigma, MacDonald says, "they think people are going to think they're weird or are going to talk about them."
MacDonald says there's a lot of misinformation amongst students around pill usage. "Students don't see the long-term affects of impulsively swallowing a half a bottle of Tylenol", he says. It's not until six hours later "they're saying they're not really trying to kill themselves, they're trying to make themselves feel better." MacDonald says the misinformation lies in the fact they've taken more than enough pills to kill themselves.
Cashen Basso supervises the RAs and the dons, and works as a close team with the counselling department. There are approximately 400 students in residence at MSVU and the ratio of RAs to students in residence is 1:24 or 1:21. She says, "they are the first point of contact for students and have developed strong bonds with them."
Matt Morash, an RA, says wearing the shirts around campus, having the video and having people ask questions, has generated awareness. "Every conversation we had with someone was one they wouldn't have had otherwise," says Morash.
He says he encourages students to take walks or read a book, instead of heavy drinking and excess partying. It's important he says, to "do your own maintenance before you get to that tipping point."
Joey LeBlanc, an RA, says wearing their T-shirts on the same day the "I'm feeling" campaign kicked off, "helped to generate more chatter around difficult mental-health conversations. "The "I'm feeling" campaign is in it's second year and is run through the student union.
Student Union Manager Kenney Fitzpatrick says he started noticing the number of students feeling anxiety on campus "was getting out of control." He wants students to feel comfortable about getting a mental-health tuneup when they feel they are starting to take on more than they can cope with.
Fitzpatrick compares the tuneup to getting your eyes checked or going to the dentist,saying, "You wouldn't think twice about taking care of yourself by going to the doctor for a checkup." He describes monitoring your mental health like a traffic light and encouraging students to "stay in the green. When you feel you're getting into the amber, it's time to talk to someone, before you go into the red."
LeBlanc says End the Stigma campaign will help to educate students about realizing stress doesn't equal depression. Cashen Basso reiterates "it doesn't mean that everybody that goes to counselling is suicidal" and that "self-harm doesn't mean you're trying to kill yourself."
Students less prepared for university
Joanne Mills, one of two psychologists working in counselling at MSVU says they are seeing more students coming in less prepared for life. They have fewer problem-solving skills than they maybe would have 10 years ago.
"Families have shifted away from the 'be seen, not heard' phenomenon to more 'child-focused-families, where parents do a lot for their kids," says Mills.
She says they see many students coming in from high school unable to cope with deadlines and their new-found independence.
The idea that parents can be reached so easily, through texting and email, is a double-edged sword for students. Mills says it is great that parents are trying to be more involved with their children when they go to university.
On the flip-side, Mills questions the possibility that "such quick and open communication isn't allowing students to get through things on their own and develop coping skills."
Cashen Basso has also found in her experience that, "students have a much stronger connection to home now because Mom is texting them every morning.''
"We're definitely dealing with an entitled generation who are used to instantaneous results and instantaneous satisfaction," Cashen Basso says, adding that these expectations can often result in anxiety and has seen some students develop panic attacks as a result.
Cashen Basso says students need to learn to problem-solve and to have reasonable expectations. These are both skills that can help students cope with anxieties associated with the huge changes they face in first year of university.
One approach their team takes with students experiencing mental-health issues is through creating a wellness agreement. "The agreement gives students a role in helping themselves," she says.
A wellness contract may consist of the following commitments:
I promise to go to my counseling appointment
I will contact my RA or Don when I am in crisis
I will contact mobile crisis or the help line if they are not available
When I feel the need to self-harm or I am in crisis, I will contact (my RA, my counselor, etc.)
Cashen Basso says they've got a good support system within the university, but outside there is a serious lack of support, few hospital beds and long wait lists for health services. She says they can only provide so much help and for some students facing serious crisis, sometimes the only option is for them to go home and be supported by their family and community.
End the Stigma is a student-driven campaign that costs $100.00. Ali says they believe the campaign could be easily recreated on campuses across Canada and looks forward to running the campaign again next year and possibly this coming February when so many people are prone to feeling the winter blues.