NSCAD community drafts manifesto
Halifax art school strives for autonomy
January 25, 2013, 11:08 AM ADT
Last updated January 26, 2013, 12:25 PM ADT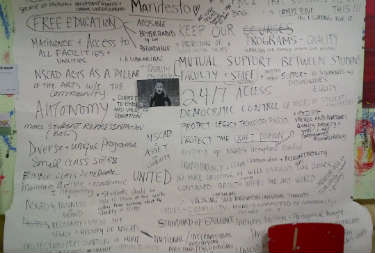 Students, faculty and staff of Nova Scotia College of Art and Design approved a collective manifesto on Tuesday that seeks to preserve the university as an independent institution.
"We've been having monthly general assemblies," says Sarah Trower, Student Union of NSCAD president. "We've collaboratively written a manifesto with the students, faculty and staff to reaffirm the values of this institution."
The manifesto blames NSCAD's current financial situation on a number of factors, including inadequate funding, which threatens NSCAD's existence as an independent institution.
One part of the document deals with the provincial government-commissioned Hogg report. The manifesto argues the Hogg report did not recognize NSCAD's valuable programs and needs when distributing funds. Instead of taking steps to address this problem, the provincial government imposed a sustainability plan, which would dismantle many of NSCAD's core values.
In 2011, the Windsor report indicated NSCAD'S financial debt was roughly $19 million. The report told NSCAD to undergo cost-cutting opportunities or risk losing their independence. The Nova Scotia government agreed to provide $2.4 million as long as the conditions were met from the report.
The 2012-13 NSCAD budget proposed fee increases, staff reductions and course changes that would eliminate the debt by more than $1.2 million. This would still leave a deficit of $1.364 million.
The document also faults the previous administration decision to construct a new campus without adequate funding. This decision contributed to its financial crisis.
"The manifesto is to unite us as a school," says Trower. "There is a consistent fear that we don't know if NSCAD will be here next year."
Some of the core values put forward in the manifesto include:
retaining an autonomous institution that values critical thought and quality education
providing accessibility and affordability for students
keeping small studio class sizes
stopping faculty and staff cutbacks
The NSCAD community held brainstorming sessions between students, faculty and staff to determine what each party wanted, says Trower.
The first draft was introduced on Jan. 15, but was rejected by students.
"We brought it to the general assembly, but the students thought that it wasn't refined enough and they sent it back to us," says Trower.
The manifesto was then re-edited and accepted by all parties on Jan. 21.
Kelly Zwicker, vice-president of NSCAD's student union, approximately 80 students showed up at the general assembly, she was happy with the turnout.
Many students do not want to see the university's autonomy diminish.
"We are like a community, and if there are any parts of the community that would be taken away, then we would lose our structure," says Madeline Watson, a second-year interdisciplinary student.
"There's a network we strive to keep here," says Kaylea Reeve, a second-year jewelry student.
Trower says she is uncertain about what will follow from the provincial government, but remains proud of what was achieved in the manifesto.
"We don't know what's next," says Trower. "We shall see what response we get."