NSCC scientist working to adapt solar panels to N.S.
Research important to local firm
October 30, 2012, 10:15 PM AST
Last updated November 13, 2012, 10:24 PM AST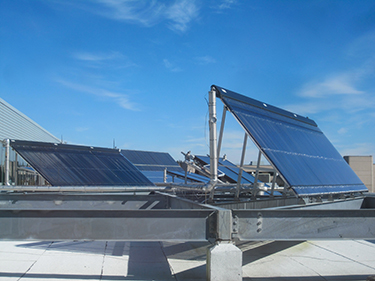 For Alain Joseph, shoveling snow is a small price to pay for finding out more about how best to harness the sun's energy.
A research scientist specializing in solar energy at Nova Scotia Community College's Dartmouth campus, Joseph says last year's light snowfall did not give faculty and students enough information on how solar panels perform in a typical Atlantic Canadian winter.
Joseph and his colleagues collect data from solar panels on the roof of the Woodside Wing of the Dartmouth campus. They hope to gain an understanding of how solar energy can best be put to work in Nova Scotia.
The research is an important piece of Nova Scotia's move towards more sustainable energy. The Halifax Regional Municipality recently announced its Solar City program has funding to install subsidized solar panels on the roofs of about 500 houses in the area. Like the college, Solar City's mission is for Halifax to become a Canadian leader in the use of solar technology.
The college's roof is fitted with two basic types of panel: photovoltaic and thermal dynamic.
Thermal dynamic panels – what Joseph describes as the less glamourous, more practical of the two – are used to heat water. Household hot water costs are significant and the panels quickly pay for themselves.
Photovoltaic panels take their name from the photovoltaic effect, which produces electricity when exposed to sunlight.
"Right now the price difference is huge between the two technologies," says Joseph, estimating the cost of running a few electric appliances on photovoltaic power would run upwards of $10,000.
The price of photovoltaic panels, however, is expected to come down. Joseph compares it to the way prices for gadgets like iPods have come down over the last several years. The two technologies are made of similar materials.
Richard Vinson, who runs a small company in Halifax called Creative Solar, praises the college's research.
"It's beyond words. They're doing new things all the time and we really need that," says Vinson. The college has the resources to experiment and collect data in a way that would be difficult for small startups in the private sector, Vinson says.
Vinson's company is one of a number of alternative energy companies in Halifax. There is even a society of enthusiasts called Solar Nova Scotia that advertises drinks-and-dinner meetings at The Lion's Head Tavern on Friday nights for anyone interested in talking about solar energy.
When asked what he's learned so far about solar energy and its application in Atlantic Canada Joseph says he is impressed with how well the panels worked last winter.
Solar energy is often used on homes that are tied into the regular power supply and "snow can affect you worse if you don't have the grid to fall back on," says Joseph, because the panels need to be clear of snow in order to properly function.
Joseph is quick to add that any time you study anything affected by climate, there are no quick answers. But more answers could come with worse weather this winter.