NSCC students see what's in the cards
Course opens students' 'third eyes' to card reading
October 30, 2012, 10:47 PM AST
Last updated November 12, 2012, 10:56 PM AST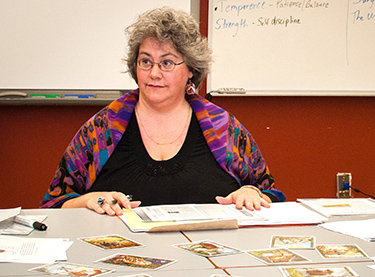 There's no ace of hearts in a tarot deck, but there might be hints of impending heartbreak.
On Thursday nights at the Nova Scotia Community College's Institute of Technology campus in Halifax, Karen Mombourquette is teaching others how to see what's in the cards.
Over three two-hour classes, Mombourquette covers the history of cartomancy, the meanings behind each card and how to interpret these meanings in a card reading.
Mombourquette's course is being taught through the school's continuing education department, which encourages the development of new skills and lifelong learning. Although Mombourquette's course is not offered for credit, the college still requires Mombourquette to produce a formal syllabus. Mombourquette also teaches courses at the college on palm and tea reading.
Outside class, Mombourquette does readings through her business, Mystic Entertainment.
Mombourquette was recruited by a course coordinator who saw Mombourquette doing readings in a bar. The college has offered Mombourquette's tarot card reading course since 1997, originally under the name Fortune Telling. Mombourquette admits her colleagues in the "intuitive" community dislike the term, but says it helped draw a big audience at a time when the practice was less well-known.
Eight students are enrolled in this year's course, now named Mind & Spirit: Cartomancy. Mombourquette says tarot card reading "won't be taught to just anyone" and her class tends to attract those who already have an appreciation of intuitive work.
Julie Allen, a student in the course, says it was "an ego thing" that initially attracted her to card reading – she enjoyed having readings done as a way to find out about herself. Now, Allen wants to conduct readings of her own.
In her second lesson, Mombourquette covers the four suits of a tarot deck: swords, cups, pentacles and wands. Mombourquette names Bill Gates as an example of someone who best embodies the pentacles suit, which represents material resources.
Mombourquette ends her classes doing a reading for each student. During Mombourquette's second lesson, Angela Parlee is up first.
"What's your connection with music?" Mombourquette asks as she examines Parlee's card. "Do you play it?"
At first, it seems like the spirits might be setting Mombourquette up – Parlee answers with a joke. "I play it in my car," she says.
Mombourquette probes further, asking if Parlee listened to music in her car on the way to class. Parlee admits she didn't – she's nervous about a French course she's set to teach in January, and she's started listening to French radio to prepare.
Mombourquette tells Parlee that this change has been more drastic than it may seem: work has invaded Parlee's personal time.
A week later, Parlee says she's gone back to listening to music during some of her drives.
Although Mombourquette acknowledges some people may be skeptical about card reading, she says she prefers teaching those who have an interest in the subject to preaching to those who don't.
"We find a way to find our answers," she says. "How we do that is a personal journey."