Organization for people with disabilities needs funds
Sackville high students help build awareness
January 16, 2013, 4:54 PM AST
Last updated January 19, 2013, 1:17 AM AST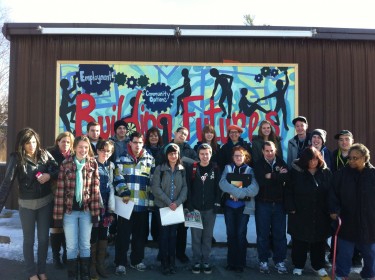 Sandra Washo has worked in The Print Shop at Anchor Industries Society since 1988.  She's seen many people with intellectual disabilities benefit from the services they provide.
Anchor Industries Society is a non-profit organization that's been doing something special for their community for over 30 years.
They're building futures for individuals with intellectual disabilities, like autism and Down syndrome.
"My brother steered me in this direction and I couldn't imagine working anywhere else," says Washo.
Her brother, David Reeves, was born with Down syndrome.  He came to work at AIS in 1982 and enjoyed working in an area called The OffShoot, which teaches assembly-type skills.
Through the support he received at the learning center Reeves was also able to also work in the community at The Superstore.
"David loved things being neat and tidy," program co-ordinator Mary Pratt remembers. She smiles when she remembers how he loved his job of front-facing items, which is to line products orderly on shelves with labels facing outwards. "He had his Superstore shirt and was part of a team … he loved that job," says Pratt.
But AIS has a growing wait list.
It's a barrier to their services and more than 70 people wait without much hope of accessing AIS.
Marilyn Forrest, the executive director says space doesn't come available unless someone moves away or passes away, which is unfortunate.
That's why the wait list has grown to such a high number during the last decade. They simply don't have enough space.  AIS needs to grow.
They're hoping to raise a total of $1.7 million to expand their Glendale Avenue location in Sackville and have currently raised $600,000 through fundraising and government contribution.
But they still have a long way to go.
A Grade 12 art class at Sackville High has decided to help.
They sketched, designed, prepped and painted an eight by 16-foot mural which now hangs across the front of the small, brown, 40 year old Anchor Industries building.
It was a collaborative process between the students, AIS and the community, says Forrest and Alison West, Sackville High's art teacher.
Forrest is extremely proud of the students' work on the eye-catching mural.  She says even after 30 years, "people are often surprised to find us here."
She hopes the mural will raise awareness for their 'Building Futures' campaign and ultimately help to raise the funds to build onto their current location.
The mural is painted in pale shades of blue acrylic with shadow-like people intertwined around the bold red words, "Building Futures".
Rachel Cherry is one of the 18 students that helped in the design of the mural.
"I think it's really great and will help make a new name for Anchor Industries … I think it's really vibrant from the street," says Cherry, whose brother Jacob is in Grade 10 at the high school and has a mild development disorder along with other disabilities.
Her mother, Yvette Cherry says she has already had to start planning for her son's future for when he graduates high school.
"It is unfortunate," Cherry says of the wait list. "I do know there a lot of adults at home watching TV or playing video games.  It's so important that we all have a meaningful day."
She says she knows Anchor would love to help individuals find meaningful employment but they are restricted by funding.
Pratt echoed the need for the larger premises saying "there's really not a lot out there for people needing the services they provide."
It is their hope that as awareness builds around the organization, they'll reach their fundraising goal and be able to begin building a bigger building—knock down the old walls and ultimately, continue to 'build futures,' one person at a time.
Washo's brother David died a few years ago at the age of 50, but he's not forgotten at AIS.
"We have a memory wall, so anyone we lose has never gone very far … the guys never forget," says Washo.
She sees first-hand the self-esteem, self-confidence and quality of life a place like AIS can offer people with intellectual disabilities.
And she sees the level of commitment, loyalty and dedication that people with intellectual disabilities bring to their community and their work place.
It's a win-win – if they can only continue to grow.
More information on Anchor Industries Society can be found on Facebook.