Profs argue for tuition-free future
Students learn about a more affordable approach to university education
January 25, 2013, 4:52 PM AST
Last updated January 29, 2013, 8:22 PM AST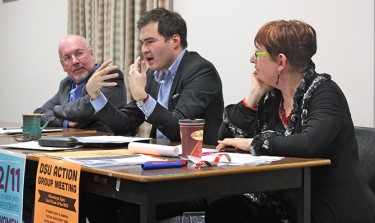 During a public forum on Thursday, faculty from three universities spoke to an audience at Dalhousie on how and why Nova Scotia could eliminate tuition fees.
"I was able to do these things and still have plenty of time to make sure I had a damn good education," says Chris Ferns, a Mount Saint Vincent University professor and president of the Association of Nova Scotia University Teachers.
Growing up in England, Ferns was able to experience the luxury of a "free education" powered through the taxation system — a system he believes Nova Scotia should strive towards.
Amid another three per cent hike in tuition at the province's universities, the Dalhousie Student Union put together the forum, to inform students about alternative ways university can be structured. Around 40 students came to listen in on their advice.
Education systems abroad and of the past
Ferns wants students to look back on the 1960s when university was affordable and — in some areas of the world — free.
He had the ability to explore a range of classes — from journalism to theatre — and stay an extra year at university without having to worry about the burden of racking up debt.
By the end of the 1960s, he noticed the mentality towards education took a drastic turn.
The generation that benefited from affordable and free education began to take the stance that if people have to pay for a degree they'll make more responsible educational decisions and have a greater respect for the experience.
Ferns' blood boiled as he heard his father recite these views during convocation at the University of Exeter in 1969.
"I grew up on this kind of crap and it's still crap," says Ferns.
Making education free
Judy Haiven, associate professor of the management department at Saint Mary's University, explained how taxation of all Nova Scotians could result in "free" university education for students.
Nova Scotians would be taxed at different percentages based on their annual income.
A person in the $29,590 provincial tax bracket would pay $200. Going up the income brackets, people would be charged in increments of $300.
"If people aren't going to university because they can't afford it, or people default because they can't pay fees or pay back a lender, we have a problem," says Haiven. "The most important thing from the standpoint of education and economy is for people to finish."
Involving students in tuition talk
Chris Parsons, a teaching assistant at the University of King's College believes students voicing their opinions in an organized and unified way will help spark change with tuition hikes.
He said students and faculty can fight to lower tuition fees by:
Envisioning what a university is and what it ought to be
Taking the initiative to ask questions
Lobbying the province
Organizing to legitimately represent student views
Committing to a vision and running with it
The students' plan of action
This year, Aaron Beale, the DSU's vice-president academic and external, will be using his debt campaign to ask the province for a new memorandum of understanding to reduce tuition and eliminate student loans for Nova Scotia students.
"This is the only time you're not bogged down with jobs and this is the time when you can make some change," says fourth-year student Alice Boudreau.
A study released by Statistics Canada in 2005, corrected to 2011 inflation levels, says students in the province walk away with an average debt of $35,642. One student said she had to make her university choice based on the school's price tag.
"I ended up picking my university based on expenses," says first-year student Paige Farah. "Seeing as I'm paying for my own education, I decided to go to Saint Mary's University because of entrance scholarships and stuff like that."