Province secures 400 BlackBerry jobs
Provincial government to invest $10M over five years
February 8, 2013, 1:33 AM AST
Last updated February 10, 2013, 9:43 AM AST
Premier Darrell Dexter announced today that the province will invest $2 million in Blackberry over five years. In return, BlackBerry will "employ at least 400 people annually with an average salary of at least $60,000."
Dexter said the partnership is about making investments in the future.
"Today is about ensuring that along with great companies like Blackberry we continue to grow an important sector here," said Dexter.
He said that in order for smaller companies to survive, they need bigger ones around like the company, formerly known as Research In Motion Ltd.

"Little community based companies that exist up and down this road, their success depends on the success of big companies," said Dexter.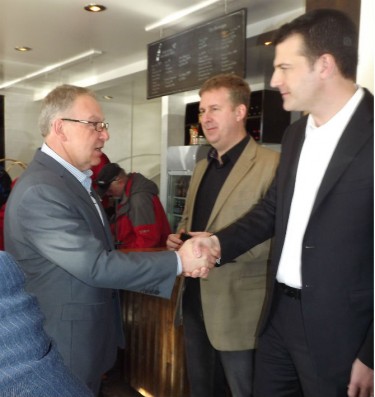 Transition
BlackBerry has had what Andrew MacLeod, Blackberry managing director for Canada, called "a year of transition," which, was difficult at times. He said the investment will help build a strong foundation for the future.
"We believe that the investment made today by them[the provincial government] will ensure that we will have a healthy, strong and talented workforce of high-tech employees here in the greater Halifax region and Nova Scotia as a whole."
A Feb. 7 news release said the government will also earn more than $9 million "in estimated direct tax revenue generated by BlackBerry's $120-million payroll."
A new BlackBerry smartphone, the BlackBerry Z10 was launched on Feb. 5. In a news release, president and CEO of BlackBerry Thorsten Heins said, "In Canada, yesterday was the best day ever for the first day of a launch of a new BlackBerry smartphone.  In fact, it was more than 50 per cent better than any other launch day in our history in Canada."
Keeping young people here

Dexter said he is doing what he promised in 2006, "to make investments to keep young people" in Nova Scotia and a partnership like this can help keep them here.
"I don't want to see young people like this going to other parts of Canada or perhaps other parts of North America to work," he said.