SMU communications manager resigns
Steve Proctor resigns from SMU due to personal reasons
February 12, 2014, 5:36 PM ADT
Last updated February 12, 2014, 6:21 PM ADT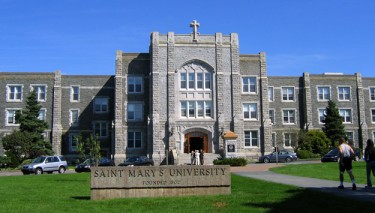 After a year of controversy at Saint Mary's University, the school's head spokesperson has decided to call it quits.
Steve Proctor has decided to resign his position effective Monday for personal reasons after three years as SMU's communications manager.
"I had a very interesting year, an interesting three years at Saint Mary's, certainly of which I am very proud. I look forward to new challenges ahead. Certainly there is a boatload of experience that I take away from Saint Mary's," he said during a phone interview today.
Proctor was in charge of media inquiries to the school and had been absent from his desk for a week prior to the decision to resign.  The resignation, the university said, had nothing to do with recent controversy over tweets made by Husky football players or the frosh chant that made national news in September.
"He had his own reasons — personal reasons," said Margaret Murphy, SMU's vice-president of external affairs. "Steve left the university because he thought it was the right decision for him and we had to accept that."
Prior to working for Saint Mary's, Proctor had a long career with the Chronicle Herald, did some teaching at the University of King's College and owned his own consulting company called the Culture Shift.
Proctor plans to re-launch the Culture Shift and see what other opportunities present themselves.
"When I left the Herald a number of years ago, I didn't know where I was going to end up. Where I end up now, who knows," he says adding that he would be open to a return to teaching or journalism.
Murphy couldn't say whether Saint Mary's plans to refill his former position.