SMU students to vote on levies
Referendum at SMU will decide future of university societies
January 29, 2013, 7:59 PM AST
Last updated January 31, 2013, 12:21 PM AST
Saint Mary's University students will vote on their student levies next month, giving them the opportunity to change the societies they fund and the amount they give them. All levied societies will be included on the Feb. 13 and 14 ballot. This is the first referendum of its kind at SMU.
Until last year, students approved the levies in an initial vote — societies did not have to hold another referendum unless they wanted to raise the fee. Last year, the SMU Students' Association changed the society policy to include a referendum on levied societies every four years.
"Every four years there's a new generation coming in," says Sylvia Abdel-Gawad, a member of SMUSA's Board of Directors and part of the elections and society committees.
"It's very important that we have a referendum coming up," she says. "Just to remind students, 'you're paying for all these services, are you OK with that?' Students always have to remember that they have all these services on campus. Are they benefitting from these services? Is it doing any good to them? Does it speak to them?"
A centre at risk?
In this year's referendum, each levied society will have a question asked on their behalf; some are asking for a raise, some are asking for continuation of the current levy.
If fewer than two-thirds of the students vote against the levy, the students' association will withdraw funding.
Volunteers and co-ordinators at the SMU Women's Centre fear putting their levy on the ballot could mean the collapse of the organization altogether.
The current question for the centre asks for the levy to remain at an "unaltered price"; $2 from every full-time student beginning in the fall semester and $1 for the students that start in January. Combined with the funding from SMUSA, the centre's current operating budget is around $13,000 annually.
If they lose their levied status, the centre could reapply for society status in September, says Abdel-Gawad, but as a non-levied society.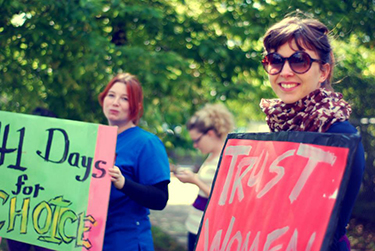 SMUSA funds non-levied societies up to $2,000 annually with any extra funding capping at $3,000.
Amanda Dickie, the centre's communication and events co-ordinator, says any reduction in the society's current funding could result in it closing.
"At this time my feeling is that it would go under," she says. "Currently we have two co-ordinators that are paid for 10 hours a week, which isn't even half the time we try and keep the centre open."
Along with its support services, the centre provides training, holds events that support local charities and, Dickie says, "it helps make a more welcoming space on campus and change some of the stereotypes people have of Saint Mary's."
It's important that SMU have its own women's centre, she explains. "In the past Saint Mary's has been a rather inhospitable environment to a variety of marginalized students."
"I think that the societies are doing most of the work at SMU to create a hospitable environment for students," she says.
To vote or not to vote
Dalhousie's Student Council will review instating a similar referendum for the levied societies at the Dalhousie on Wednesday.
It will debate whether it is worth putting stress on the societies to defend their position every few years. Some societies are concerned that campaigning for a referendum would take away from the services they provide to students.
"The staff and board of these places are putting in a huge amount of work no matter what, to get the work we want to get done, done," says Jean Ketterling, Dalhousie's South House administrative and volunteer co-ordinator. "You have to look at the amount of time and resources that go into running a campaign around a referendum — operations would come to a halt in a lot of ways."
But Abdel-Gawad sees the referendum as an opportunity.
"It would remind students what the services (the societies) offer are, and that they should use these services," she says. "I don't think it's a waste of resources because many students may not know about it. Especially in a big population, students tend to get distracted and overlook it."
"I think societies should always, always point out to students what they're there for," she adds. "I think that campaigning or going around campus and telling people 'Hey, we offer these services,' I think they should do that on a regular basis anyways."
SMU societies can present and discuss the levies with students at the student assembly on Feb. 7. Everyone is welcome to attend the event, which will start at 4 p.m. in Room 283 of the Loyola Building.